Associate Professor of French and Francophone Studies. Writer and Filmmaker.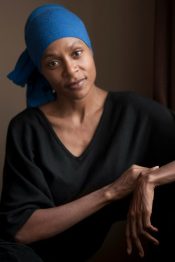 Education
Ph.D., Louisiana State University
CIFAP, International de Formation Audiovisuelle et de Production
M.A., La Sorbonne, Paris V
M.A. University of Paris North - XIII, Paris, France
B.A., François Rabelais University, Tours, France.
Professional Bio
Born in France to Caribbean parents, Dr. Fabienne Kanor teaches French and Francophone Literature and Cinema. An award-winning writer and filmmaker, she has directed many movies (mostly documentaries) and published seven novels, including among others D'eaux Douces (2004), Humus (2006), and Je ne suis pas un homme qui pleure (2016). Set in Louisiana, her next novel tells the story of a Cameroonian man in search of his identity (2020).
Named by the French Minister of Culture "Chevalier des Arts et des Lettres," Kanor devotes her career to studying Race, Gender, and Migrations in France and Francophone Africa. She has just translated Zora Neale Hurston's book Barracoon, the Story of the Last "Black Cargo" (March 2019, Lattes).
Fields : Francophone Literature (French Caribbean, Sub-Saharan Africa), Cinema (Fiction and Documentary), Post Colonial Studies, Creative Writing, Women's & Gender Studies, Caribbean & Africa Diaspora in France, Migration Studies, Body Studies.