Instructor: Tracy Rutler
Mo 6:00pm-9:00pm
In an article on disability and postcolonialism, Clare Barker and Stuart Murray write, "Disability Studies problematically transports theories and methodologies developed within the western academy to other global locations, paying only nominal attention to local formations and understandings of disability." However, the problem may lie less in the theories and methodologies in question than in the origins of modern notions of disability itself. What we tend to think of as normative ability in the West emerges, in large part, from Enlightenment-era science that sometimes relied upon ghastly experimentation on unwilling subjects. These experiments defined what "normal" bodies can and should do, focusing on bodies as matter to be examined rather than fellow humans in need of care. In this seminar we will examine a variety of literary sources including fictional, philosophical, and scientific texts, sources from eighteenth-century medical school archives, personal journals and letters, and more to respond to the following questions: what is (dis)ability? How might it be defined differently if we look to practices outside of the burgeoning medical profession of the 18th century? What if we included care and healing practices of the early French colonies? In short, what does it mean to talk about bodies, medicine, and care in an early modern context, and how might that still shape/haunt the way we think of these categories today? 
Instructor: Fabienne Kanor
Th 3:30pm-6:00pm
It was during a stay in Croatia that Aimé Césaire, then a student, transformed his homesickness and his experience of having been colonized into literary ferment. To discover that the Croatian island he sees every morning is called Martiniska repatriates him in poetry to his home, in Martinique. From this experience was born Cahier d'un retour au pays natal. This anecdote encourages us to explore the underside of creation and to experience the creative act for real. In this seminar, I therefore propose to reconcile two approaches: the practice of creative writing and the critical analysis of materials (written and visual) in which the artistic process is revealed and/or dissected. Through a trans-regional and trans-disciplinary approach, we will explore works of varied nature, from French-speaking authors and artists (Africa, Caribbean, Quebec, Pacific, France) for the most part, and English speaking. Among the authors/artists of the corpus : Patrick Chamoiseau, Dany Laferrière, Nally Kaplan, Marguerite Duras, Chantal Spitz, Ananda Devi, Véronique Kanor, Djibril Diop Mambéty, Felwine Sarr, Raphael Confiant, Toni Morrison, Léon Gontran-Damas, etc. Intense and intimate, these sessions/workshops will allow you to give birth to a consistent creative work at the end of the semester.
Instructor: Tracy Rutler
Tu 3:30pm-6:00pm
This course is designed to introduce you to the modern schools of literary theory and criticism. In this course, we will discuss not only what it is that we call "literature," but also what we call "Theory" (with a capital T). We will learn how to judge a work of literary art objectively through theory and we will also learn to understand multiple interpretations of literature through different literary apparatuses. The goal of this course is not to help you to apply theory to a text, but rather to appreciate the history of theory, understanding the distinct schools of thought and their relation to one another. Although we will touch upon ancient and early modern critical methods, we will focus mainly on the schools of thought that emerged from the twentieth century to the present, including some of the newest turns we are seeing in theory today.
Instructor: Maria-Gratias Sinon
We 3:30pm-6:00pm
This seminar aims to explore the direct and indirect links between Caribbean and sub-Saharan basic texts (novels, poems, films, and plays) and theoretical and critical texts that call into question the controversies or identity conflicts expressed within French-speaking Caribbean and sub-Saharan societies and within metropolitan France. We will address, among other things, questions concerning French citizenship, immigration, and coloniality. We will also define the French-speaking world in postcolonial and transnational contexts, in space and time. Our collective goal will be to deepen the understanding of contemporary French and Francophone spaces, the complexity of literary and socio-cultural phenomena, considering their history and their transformation to refine the critical eye.
Instructor: Jennifer Boittin
We 3:30-5:30 p.m.
This seminar's goal is to explore various aspects of French and Francophone cultural, intellectual, and sociopolitical history from the eighteenth to the twentieth centuries. Rather than presenting a simple chronology of events, this class explores historical events or moments via precise themes, including colonialism, literature, gender, race, class, sexuality, violence, visual studies, and so forth, thereby linking historiographical approaches to a variety of other disciplinary approaches. The types of "readings" will vary from historical texts to various cultural objects, and also include novels, graphic novels, and films. Topics include the French Revolution, Haiti's war of independence, Algeria, the Commune, and French Indochina (today Vietnam, Cambodia, Laos, and territory in China).
Instructor: Fabienne Kanor
Mo 4:00-7:00 p.m.

In his famous introspective lyric poem "Heritage," Countee Cullen wonders what Africa is. The response resembles a catalogue, Cullen's Africa is "Copper sun," "strong bronzed men," Jungle star," etc., indicating an irreducible distance between the African-American writer and the country of his ancestors. This poem, came out of the Harlem Renaissance, is at the forefront of this trans-disciplinary graduate seminar designed to be a return journey – imaginative or real, to Africa-s. Through various lenses and different forms of contemporary works rooted in Africa and in the African Diaspora (films, literature, visuals arts), we will explore issues of race, immigration, cultural shifts, colonization, identity and more. Here are some of the works that we will study: the feature film Africa paradise by Beninese Sylvestre Amoussou, the short film directed by Senegalese Ben Diogaye Ben Les princes noirs de St-Germain-des-prés, the philosophical book Afrotopia by Senegalese Felwine Sarr, Maryse Condé's novel En attendant le Bonheur (Guadeloupe) as well as the artwork of Congolese artist Sammy Baloji….
Instructor: Fabienne Kanor
Tu 9-11.30am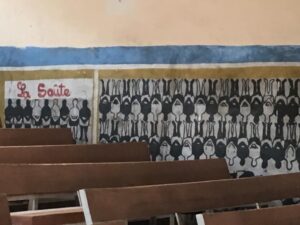 If for the descendants of Africans deported to America by the Atlantic slave trade, the hold of the slave ship remains a damned place of memory, where their enslaved ancestors experienced social annihilation, violent death, struggle and survival, it resists oblivion and keeps haunting the living because. Beyond the figures disclosed by historians, dated maps, and some written and material traces documenting the history of slave ships, our knowledge of the slave ship's hold remains incomplete and theoretical. We cannot visit the hold of an existing slave ship; it's a fact. We can no longer descend into the hold. In order to imagine what the African captives endured at the bottom of the ocean, in the womb of the slave ship, all that remains for us is art. In this trans-national and trans-disciplinary seminar, we will examine the protective, emancipatory and curative powers of art. Faced with a memory deficit and the lack of records existing for the history of the slave trade, as it was experienced by the captives, the artists and thinkers we will consider put the hold at the heart of their concerns, or of their sets. Ghostly, fantastical or realistic, this hold is an important motif in their works and, in most of the cases, a motor to transcend pain and to replace by more personal images, the visions fueled by collective memory: images of bodies stocking together, images of chains, images of night, of a sky suddenly disappeared, images of sharks waiting for chained bodies thrown into the sea, already dead or sometimes alive. Over the stopovers that we will make (Benin, Antilles, America, France), and the different artistic practices to which we will lean (literature, installation, cinema, performance, video clip), we will question the limits of art facing history, and facing the process of mourning and the duty of remembrance. Our multidisciplinary approach looks into transnational artistic works with a corpus ranging from Casey (rap singer), Orlando Paterson (historian), Guy Deslauriers (filmmaker), Edouard Glissant (philosopher), to Robert Jones Jr. and Zora Neale Hurston (literature), Kanor's sisters (performances and literature), and Kara Walker (performer) among others.
This seminar will be taught in French and will also include a couple of creative writing workshops.
Instructor: Jennifer A. Boittin
Tu 3.30-5.30pm

This class ensures that students gain a core understanding of events and movements in French and Francophone cultural, intellectual, and sociopolitical history during a period shaped by revolutions (political and sociocultural), wars, and colonialism. We will read texts by historians who explore, for example, the history of mentalities, memory, representation, and violence, and who use various approaches to explore that history, including intersectional forms of analysis anchored for example in class, race, or gender. We will also consider first-hand accounts, including literature, film, and iconography.
Instructor: Bruno Jean-François
Th 9:00-11:30 a.m. Via Zoom
As global linear thinking mapped islands and oceans, continents and seas, it also conditioned our minds and geographical frameworks. Colonial imagination, in particular, has persistently conceived of islands and archipelagoes from the Atlantic, the Indian Ocean, and the Pacific, as vulnerable, exploitable, and fragmented isolates. Their peoples, cultures, and ways of being have long been mired in exotic clichés, based on mythologies of racial degeneracy, the excesses associated with tropical nature, and the deficiencies attributed to indigeneity, slavery, and orality. They are often represented as irrelevant to our understanding of modernity, cosmopolitanism, or cultural exchange. But by consistently challenging the divide between lands and seas, islands and oceans, the literatures from the Mascarenes, the Antilles, and Polynesia have long trained our minds to think relationally about (trans)oceanic movements. Their representation of human mobility tests our capacity to conceive differently of world history, and to question the colonial taxonomies that have resulted in the division between the powerful North and the so-called isolates of the Global South. In this seminar, we shall consider how Francophone expressions from these islands challenge disembodied conceptions of space and fixed notions of borders in order to redraw the contours of oceans and archipelagoes as fluid and permeable geo-assemblages. Using a variety of approaches, we will namely discuss the transformative interventions of postcolonial writers such as Aimé Césaire and Nathacha Appanah, Chantal Spitz and Ananda Devi, Raharimanana and Shenaz Patel whose works reinvent the contours of their fragmented worlds. This seminar will be conducted in French; and in the spirit of thinking beyond borders and divides, some sessions will be run with the other 2 spring seminars offered by Prof. Monicat and Prof. Kanor. It will be our pleasure to think of our work and our course contents relationally.
Instructor: Bénédicte Monicat
MW 3:45-5:00 p.m. Willard Bldg 174. 
L'histoire des prix littéraires permet d'aborder nombre de questions que ce séminaire propose d'explorer à partir d'un cas d'étude révélateur de l'histoire et de l'historiographie littéraire du dixneuvième siècle, le prix Montyon de l'Académie française, et de poursuivre jusque dans la période contemporaine sur les traces des prix Goncourt, Fémina, et autres distinctions pourvoyeuses d'une certaine reconnaissance. Prendre pour point de départ le cas du prix Montyon permet de réfléchir aux questions de genres (littéraires et sexués), d'identités (de classes et de races), à celles des conditions de production de la littérature telles que le dix-neuvième siècle les pose (et se les pose), et à leurs transmutations contemporaines. La première partie du semestre sera donc consacrée à l'exploration et à l'analyse de ce que reconnaissance veut dire pour les récipiendaires du prix Montyon, dont un très grand nombre furent des femmes. La deuxième partie du semestre, structurée autour de l'ouvrage de Sylvie Ducas, La littérature à quel(s) prix ?, vous laissera le choix de travailler sur les prix, les auteur.e.s, les corpus de votre choix. Des sessions communes sont prévues entre les trois séminaires offerts au printemps, projets et discussions inter-séminaristes bienvenus!
Instructor: Fabienne Kanor
Tu 9:00-11:30 a.m. Via Zoom.
Mainly based on contemporary French and Francophone literature, cinema, visual arts & performance, this trans-disciplinary graduate seminar will show how troubled and disabling the relationship between metropolitan France and its two former colonies, Martinique and Guadeloupe, has always been; how this unstable unbreakable relationship inspired authors and artists belonging to these French territories, still under control. We will address topics such as identity, the legacy of slavery, marronnage, independence, displacement and migrations; we will also consider art as a miraculous tool which can help build an imaginary home/world, which does not belong to anyone else but oneself. We will explore a trans-disciplinary corpus composed of ultra-contemporary works such as Combien de Solitudes by V. Kanor, M, comme Marronnage by P. Le Namouric, Je m'appelle Vénus by C. Loïal, as well as classical opus including Le soleil partagé by J. Zobel or Cahier d'un retour au pays natal by Aimé Césaire. To get a better understanding of these creative works, we will navigate across notions such as "dépossession" as conceptualized by Edouard Glissant, "alienation" (Fanon, Memmi), or "marronisme" (René Lise) among others. Also, we will broaden our perspective by approaching works by non Francophone Black creators: J. Baldwin, Kara Walker, Isaac Julien… Last but not least: this seminar will give us an unique opportunity to explore the arcana of creation through regular creative workshops which should lead us to reflect more poetically and intimately on the thematics and problematics addressed by this seminar. Bridges between our three spring seminars: some sessions will be run by two or three professors (Professor Bénédicte Monicat and Professor Emmanuel Bruno Jean François), therefore offering different approaches and perspectives on the same topic.
Instructor: Tracy Rutler
As we enter a moment in which the effects climate change are redefining the contours of our world in considerable and irreparable ways, scholarship that aims to understand the very matter of our world and its inhabitants has become increasingly important and timely. Life in the Anthropocene is one in which we must account for the way matter – human and nonhuman, organic and inorganic, active and inert – affects our lives in real and sometimes unexpected ways. The growing field of New Materialisms (which also engages with such fields as Posthuman Studies, Animal Studies, and Environmental Humanities), attests to our human desire to understand how matter matters. In this course, however, we will see that such a fascination with matter is not new to humanity. Going back about 300 years, we will see how scientists and philosophers of the 17th and 18th centuries were theorizing matter in ways that may seem at times familiar and at others strange. In this course, we will read scholars such as Rosi Braidotti, Mel Chen, and Jane Bennett alongside texts by Baruch Spinoza, Denis Diderot, and Rétif de la Bretonne, among others. We will also examine how many experiments performed by scientists in France and throughout Western Europe had lasting effects on how we think about such categories as gender, race, and ability.
Instructor: Bruno Jean-François
Considering a largely overlooked region in the study of Francophone Cultures of the Global South, this seminar engages with postcolonial literatures and visual cultures of the Indian Ocean, especially the ones from the Mascarene region, Madagascar and the Comoros archipelago. With over 5000 years of human interaction—compared to 2000 for the Pacific and 1000 for the Atlantic (Pearson 2003)—the Indian Ocean is the oldest travelled body of ocean in human history. As global movements of heterogeneous populations, experiences, and cultures left their mark on the dynamics of the region, they led to complex situations of identity loss and reconstruction, biological and cultural mixing, new forms of economic development, and sociopolitical challenges. Focusing both on literary texts and artistic productions from the South West of the Indian Ocean, the seminar will thus examine how transcolonial, transnational and "re-worlding" expressions from so-called minor islands can recalibrate both our historical and geopolitical understanding of diasporic cultures, multicultural societies and dynamics of creolization. Using relevant theories—and approaching the ocean both as a metaphor and a continuum that challenge islands' geographical frontiers, notions of 'isolates,' and cultural historiographies—we shall reflect on the role played by local histories in featuring transversal dialogues, democratic solidarity, and epistemic justice.
The course will be conducted entirely in French.
Instructor: Vincent Gélinas-Lemaire
Theme for Spring 2019: Québec Through Literature and Film: A Survey
Situé aux frontières de l'Europe et de l'Amérique, mais défini par une géographie, une histoire, une culture, qui lui sont propres, le Québec sera le sujet d'étude de ce séminaire. Nous nous intéresserons ainsi à un contexte francophone singulier, mais marqué par des écrivaines et écrivains aux postures et aux racines plurielles. Notre objectif sera de composer un portrait nuancé du Québec passé et présent, et cela en nous familiarisant avec ses grandes œuvres cinématographiques, sa musique et, surtout, avec sa littérature. Nous aborderons ainsi des œuvres essentielles du patrimoine (en prose, en poésie et en théâtre), cela depuis les explorateurs du seizième siècle jusqu'aux romanciers néoquébécois et aux poétesses contemporaines des premières nations.
Instructor:  Jennifer Boittin
Afin de marquer le centenaire de la Grande Guerre, nous allons revoir cet événement en trois parties : la guerre ; l'après-guerre ; et la mémoire contemporaine. Ce faisant, nous allons étudier les liens entre le genre, la classe et la race à l'aide de quelques exemples d'approches, de méthodologies, d'historiographies et de théories nous permettant d'explorer des sources aussi diverses que des romans, des films, des photographies et des bandes dessinées produites tout au long des vingtième et vingt-et-unième siècles francophones. Notre approche à la guerre sera donc sociale et culturelle. Le cours prendra comme exemples des cas tirés surtout de l'expérience francophone (y compris coloniale) de la guerre, mais vous pourrez aussi élargir vos recherches dans le cadre de vos contributions au cours et de votre mémoire de fin de semestre.
Instructor:  Jennifer Boittin
Instructor: Jean-Claude Vuillemin
Grounded in current theater/performance theories, reception theories and semiotics of drama, this seminar is an archeo-genealogy of France's theater from the Baroque episteme to the present. Based on a selection of major French plays and unavoidable playwrights, the course, while encouraging incursions into contemporary Francophone theater, will foster an awareness of theater as both dramatic and performance texts, literary and social events, and last, but certainly not least, will emphasize the critical role of the spec-actor.  
Instructor: Tracy Rutler
Denis Diderot's bourgeois drama, Le fils naturel (1757) opens with the narrator gazing in on a scene of intimate family drama. What follows is a play where romantic and familial relationships are called into question as each character's true identity slowly unfolds. In the spectator's gaze, the inherently intimate becomes overtly political. Blurring the boundary between the public and the private spheres, many authors of eighteenth-century France interrogate modes of political governance via a discourse on the family and its dissolution. In this course, we will read pieces of domestic fiction, taking a cue from Nancy Armstrong and re-linking the language of domesticity to its political power. Texts to be read may include: Diderot's Fils naturel; Françoise de Graffigny's Lettres d'une Péruvienne; Rousseau's Julie, ou la nouvelle Héloïse; Sade's Justine; and Voltaire's Zaire. Framing our discussion will be works by Plato, Michel Foucault, Jürgen Habermas, Nancy Armstrong, Jacques Rancière, Michel de Certeau, Nancy K. Miller, Giorgio Agamben, and Judith Butler, among others.
Instructor: Emmanuel Bruno Jean-François
While global linear thinking mapped lands and waters, it also conditioned our minds and geographical frameworks. As such, colonial imagination persistently envisioned islands and archipelagoes as vulnerable, exploitable and fragmented isolates, irrelevant to our understanding of processes of cosmopolitanism. Engaging with island literatures (and expressive cultures) of the Indian Ocean, the Caribbean, and the Pacific regions, this seminar examines how 'insular' histories and experiences relate more to stories of exchanges and encounters than one would initially imagine. Exploring the possible interactions between relevant postcolonial concepts (mondialisation, Relation, créolisation) and the emerging field of the 'New Thalassology' or Ocean studies, we shall consider how Francophone expressions challenge disembodied conceptions of space and fixed notions of borders in order to redraw the contours of islands, oceans, and archipelagoes as fluid and permeable geo-assemblages. Using a variety of approaches, and focusing on both the decentered and decentering narratives offered by postcolonial writers (Devi, Appanah, Collen, Pyamootoo, Glissant, Condé, Chamoiseau, Pineau, Spitz), who make sense of their fragmented worlds differently, we will discuss their particular transformative interventions as a way of challenging exclusionary representations of so-called minor communities and experiences.
The course will be conducted in English, and will only include works that have been translated from French to English. Students who are familiar with written French are however encouraged to read these texts in their original version.
Instructor: Kathryn Grossman
This seminar focuses on various manifestations of romanticism and realism (and, by extension, naturalism) from the First Empire to the Third Republic. What are the relations between the real and the ideal, the grotesque and sublime, the "masculine" and the "feminine," in the poetry, theatre, and prose fiction of the period? We examine the evolution, theoretical underpinnings, and distinguishing elements of each literary movement in the context of social and political revolution. We also investigate the critical discussion that surrounds each text. Our primary sources include, but are not limited to, selections from the master's reading list. Class time deals with central texts, with major critical issues addressed by the nineteenth-century French studies interpretive community, and with bibliographical resources and strategies for research in this area by present and future dix-neuviémistes.
Instructor: Bénédicte Monicat
This seminar explores the diversity of women's literary production and the variety of its objects in nineteenth-century France through the conceptual lens of genre and gender construction.  It examines what the notion of "women's literature" might entail, looks at the ways in which genre and gender intersect, and reflects upon the construction of literary historiography.
Instructor: Monique Yaari
As Marc Augé puts it, the city is a microcosm of the contemporary world. Focusing on 20th and 21st century France, we will examine the contemporary French city as a prism through which to access existing tensions between past, present and future, memory and history, material space and immaterial networks, quotidian realities and utopian aspirations, center and periphery, built environment and ecological concerns. The cultural dimensions of the city—from its role as cultural magnet to the symbolic representations and image construction it conveys will also be discussed. Throughout, the modern, postmodern, après-moderne axis will serve as a theoretical and historical guiding thread. Finally, we will analyze representations of the city in the literature of the period.